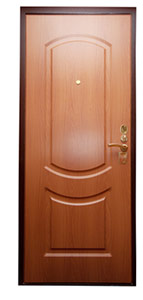 High security does not have to mean an unattractive look. We can provide composite doors for homes and businesses.  These can be fitted with an attractive wood effect and are available in red, white, black, cherrywood, oak, white grain and brown-black.  Gold, chrome and black fixtures and fittings can be added to the door to complete the look.
Composite doors look like traditional doors but have a solid, highly secure core in addition to well protected locking mechanisms.  In short, you get the looks and the security.
The doors are designed so hinges fit neatly into the doors edges.  Real strength is provided by a 4mm thick, powder coated lock strip which is added to the lock edge.  The lock of your choice then sits neatly inside the door.
Glass reinforced plastic skins are used to give even better performance and durability to your doors. We figure if they are strong enough to protect the hulls of boats they can also help keep your property and possessions from harm.
We also fit 'Future-proof' doors which allow the glass inside the door to be simply replaced as we can remove the internal cassette holding the glass, change the glass effect for you and then reinsert it securely.
Slimmer, narrower doors can be fitted if required.  Thresholds on the doors will be provided in colours which match the exterior of your door perfectly.
Get In Touch
For more information on composite doors for domestic and commercial buildings:
Call: 0800 996 1247 or 0121 476 0717.