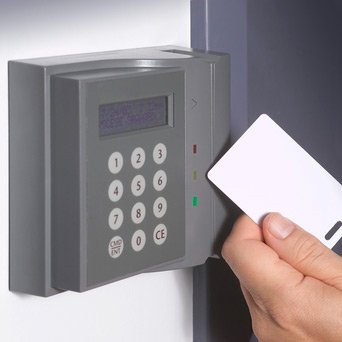 Magnetic locks are increasingly popular in businesses across England as they can be easily integrated with security systems offering keypad key card sensor or pushbutton operation, a magnetic lock is a durable and highly secure option.
Fail-Safe Or Fail-Secure?
Usually magnetic locks are installed as a failed secure option where an interruption to the power supply will leave the door secured shut.  Failsafe options are available where a loss of power will open the lock mechanism.  Usually failsafe mechanisms are used to protect property and failed secure options are used to protect people.
Why Use A Magna Lock?
In some ways magnetic locks are the natural successor to keypad operated mechanical locks as the same code will access rights can easily be granted and distributed to authorized personnel.  While those without access rights are easily kept out as they would be with any locked door or gate.
Advantages Of Magnetic locks
Simple and non-disruptive to install
Can be integrated with wider security systems
Quick to operate, ideal for areas of heavy and frequent usage
Easy to distribute access by code or keycard
Business Or Domestic
Typically a magnetic lock will be most suitable for a business or commercial premises application as initial cost of installation is quite high, and the main advantage of durability and speed is less important in a domestic setting than a business environment.  There is also less need for simple granting of access to many people in domestic environments.
However, due to the simplicity of installation and the lack of disruption involved in installing magnetic locks high-quality magnetic door closures can be installed and maintained in larger homes simply as in business premises.
Typically capable of maintaining a closure force of 250kg – 500 kg magnetic closures provide comparable strength to mechanical devices used in similar implementations and applications.
Payment Methods
We accept payment by BACS / Credit/Debit Cards, Cheques and Commercial accounts are welcome.
Get In Touch
Let our friendly staff advise you or visit to provide you with new keys or an upgraded lock:
Please note that it is necessary to remove the lock in order to assess the lock and create a key replacement.

Call:
0800 996 1247
or
0121 476 0717
. Or
contact us online here
.