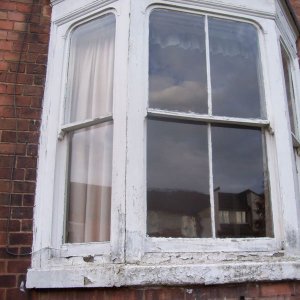 Sash windows are common in the Birmingham, Solihull, north Worcestershire and surrounding areas, in period properties built in the 1800's and throughout a large number of years in the 1900's.
Problems with sash windows – We Can Help!
Many problems with sash windows can be repaired and sympathetically restored.  Flaking paintwork and the appearance of worn, rotting or decaying woodwork does not necessarily mean complete replacement is necessary.  In many cases the damage or decay is superficial and well-built wood underneath, that has already stood up to many years, can often be repaired.  For more information on sash window refurbishment please contact us free on 0800 996 1247 or 0121 476 0717.
Replacing glass in sash windows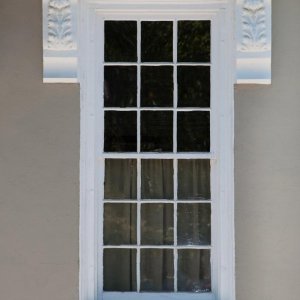 We can replace glass in sash windows which has become cracked, chipped or if it is missing or completely broken.  This glazing is carried out sympathetically to match the period of the building and windows.   We can also provide an emergency glazing repair service for houses, hotels, restaurants, surgeries, offices and business premises which have sash windows.
Sticking or rattling sash windows
Our experienced glaziers and window repair experts can assist with problems with sticking, rattling and other problems you may have opening or closing sash windows.  Problems with cords and pulleys can be solved through repair and where appropriate, the installation of new cords.  All our repairs are carried out at a cost-effective price and our vans are well-stocked to remove unnecessary delays and time spent driving to get parts and accessories.
Draught Proofing Sash Windows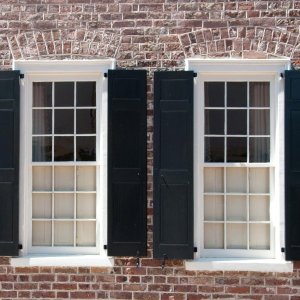 We have effective ways of draught proofing sash windows in order to help decrease on heating and energy costs, improve the environmentally friendly qualities of your home and to enhance energy efficiency ratings.
All work carried out to draught proof your sash windows, in both repairing any problems leading to drafts, and in applying additional or more efficient glazing, will be carried out carefully and the finished look is in character with the rest of your home.
New Locks to Suit Your Home, Security Needs & Your Pocket
Our locksmith can fit new locks or repair existing lock problems on sash windows on your home, office, retail or business premises.
Get In Touch
For more information on repairing or replacing sash windows in Birmingham, Solihull, Sutton Coldfield, West Midlands, north Worcestershire and Warwickshire:
Call: 0800 996 1247 or 0121 476 0717.