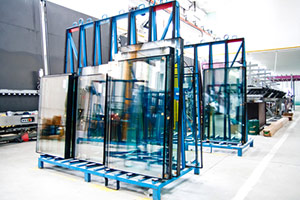 Maximising safety for your employees, students, guests or clients is of paramount importance to any organisation.
When combined with a detailed and comprehensive fire safety plan, fire resistant glazing can help form important barriers to achieve fire separation or compartmentalise an outbreak of fire.
We can install a range of fire-resistant glass in offices, industrial and commercial buildings.  These safety materials are rated in terms of the level of protection they give measured in time (15, 30, 60, 90, 120, 180 minutes etc.)  They are also measured either purely in terms of how they manage to retain their integrity or based on a combination of how they retain integrity and insulate against heat transferred from fire.
Fire Barriers & Impact Resistant Glass
We can also supply and fit clear fire barriers and glass which is designed to remain clear in the event of fire.  Safety-tested, impact-resistant glass can also be installed in partitions and fire doors.   Fire retardant roller shutters and curtains can also be fitted.
Naturally all aspects of the units installed including the glazing seal, fixings, beads and frame form part of the overall fire resistant strategy and so they are designed to withstand the effects of heat also.
We can work directly for business owners or facilities managers and also we can install for fire safety inspection consultants and fire prevention companies.
Get In Touch
For more information on fire resistant glass and glazing:
Call: 0800 996 1247 or 0121 476 0717.