What is a composite door?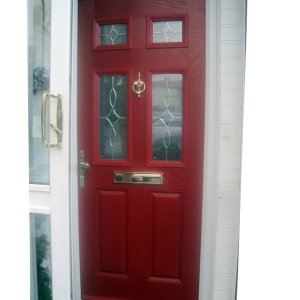 A composite door tends to be a front door (although doors for other parts of your home can also be fitted) which looks like a traditional front door.  The main benefit of a composite door is its high security make-up, whilst its attractive look fits in with the character of your home.  You can get timber effect (or woodgrain) or uPVc composite doors.
Composite front doors have a solid wood cored composite, many of which have been police tested to demonstrate and assess their effectiveness.  This makes your home, showroom, offices or retail premises less prone to burglary and vandalism.
What are the benefits of a composite door?
Secure your home or business premises
Proven to be harder for burglars to get through
Look attractive on the front of your home or office
Can be used to secure outbuildings or garden offices
Easy to maintain and clean
Glass windows (patterned, decorative or plain) available
Supply & Fit Of Composite Doors For Greater Home Or
Get In Touch
If you are online looking for more information from a composite door company then we would be delighted to hear from you.  For more information on the supply and fitting of composite high security doors, free quotations and more details please contact us:
Call: 0800 996 1247 or 0121 476 0717.