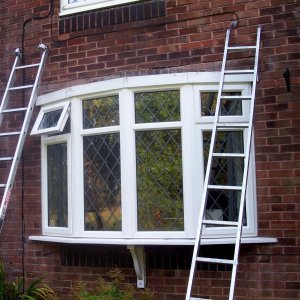 At 24-7 Glass and Glazing we have recently received very good feedback from customers who have had lead-free flashing substitute replacements carried out by our installers.
This flashing has been fitted around windows etc which previously had lead flashing.  The replacement carries levels of lead that are so small that they represent no benefit to theives looking to cash in on metal content.
If you are interested in having lead-free flashing fitted on your home or business premises please call us on freephone number 0800 996 1247 or email us for a no obligation quotation on info@24-7glass.co.uk
The photos on this page show an example of this lead-free flashing fitted at a home in Frankley, Birmingham, West Midlands.
Here in the Midlands, metal theft has led to lead flashing being targeted by thieves.  This has lead to houses being damaged as lead flashing is torn from the property as it is stolen.  In turn, this has made home-owners more keen to seek appropriate, less vulnerable replacements.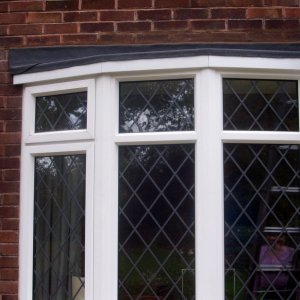 By having a lead-free flashing or 'lead flashing substitute' fitted where appropriate on your home, this innovative product deters thieves and vandals as it has no 'scrap resale' value.
Until the rules and regulations make this sort of theft less profitable, which is unlikely to occur in the near future, anyone who needs flashing replaced would be advised to contact 24-7 Glass, Glazing & Locks so we can quote you on a 'theft-resistant' substitute.
Despite being perfectly attractive as a product, it will deter thieves as it is sufficiently unique from the lead-equivalent, whilst sympathetically fitting in with your homes frontage and exterior.
Call: 0800 996 1247 or 0121 476 0717.